Did the Pandemic Cause a Dent in Your Future Plans? Here's How You Can Bounce Back!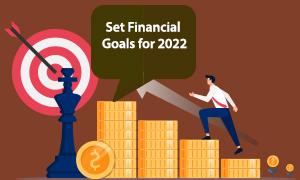 The years 2020 and 2021 were roller coaster rides for everyone; they caused a lot of financial inconvenience to many, with a lot of people losing their jobs or facing a reduction in their salaries. This messed up the financial plans of individuals and businesses too, which made everybody's long-term plans take a backseat.In order to rectify your situation and bring you back on track, here is a list of measures to take:
Realistic Goals:
It is important that you set goals that are realistic. Of course, it may be exciting to start off the New Year with a lot of hopes and extravagant dreams, but it is imperative that you set goals and dreams that are realistic; otherwise, it may just lead to disappointment and de-motivation.
For example, if you want to buy a car, it is important to consider how much you earn, how much of a loan you can take that can be repaid easily, and what brand fits well in your budget. For example, if you're able to conveniently afford a Ford, but take a loan for a Ferrari, things can turn upside-down for you very quickly.
Compare Your Progress:
It is vital that you compare your progress over the past few months in order to set your financial goals. Of course, things may have gotten different during the pandemic, but post that it is important to note whether you were financial stable, whether things improved for you, or whether you had to face hardships, monetarily.
According to the comparison made, you shall be able to set goals that are real and possible.
Review Your Budget:
Making a list of items that you want to or have to spend on is ideal. This gives you a good and clear picture of your unnecessary expenses and what you can cut down on.
The pandemic caused a lot of stress to almost everybody, and when one is stressed, unnecessary expenses are unavoidable since that gives some kind of happiness and relief. However, it can turn out to be a major disadvantage in the long run which is why it is important to cut down on these unnecessary purchases.
That's why, it is important to budget all your costs, including those that are necessary and those that are for happiness and luxury. In order to achieve your goals, cutting down on some luxury can benefit you in the long run.
Savings Should Be Part of Your Budget:
A lot of us believe in seizing the day and do not always think about the future. It was okay to believe in the phrase during the pandemic when the majority of us weren't earning as much and had just about enough to cater to our basic needs. However, not that things are starting to bounce back to normal, it is a good idea to start saving, especially to be prepared for a time like 2020 again; who knows, we may lose our jobs again.
Irrespective of whether we would or wouldn't have to face something like the covid-19 pandemic again in this life of ours, it is essential to save for the future. That's why, apart from spending on our basic needs, we should ideally budget our savings as well before considering spending on other purchases that aren't as important. So, to start fresh with the New Year of 2022, why not re-budget and start saving?
Emergency Savings
Apart from saving for your future plans, you can benefit from an emergency saving fund. So, break down your savings into two parts- emergency savings which shall help you during urgent financial needs, and basic savings which shall help you conquer your future plans.
If you plan to start a family of your own someday, it can be advantageous to you to save for that too.
Work on Improving Your Skillset:
If you aren't satisfied with how much you earn annually, you can always choose to take up another skill of your choice that can be turned into a profession. This skill can be directly related to what you already do, or it can be something completely different that can be put to practice during your off day or free time.
For example, if you work as an entry-level digital marketer and earn about $4500 a month which is an income that you're dissatisfied with, you can always take up something of your interest to work alongside. For example, if you also learn content writing and add it to the same resume, you can possibly get a salary of $6000 since your worth increases.
You can also choose to do something completely different and of your interest such as baking, and can sell your products on the weekends or order in order to earn a few more bucks.
Facing a Cash Crunch Due to the Pandemic? Borrow an Installment Loan
If you need some extra funds in order to invest in something valuable, to study further or to cater to an unforeseen emergency, you can choose to take a loan to get back on track.
How much you choose to borrow depends on how much you require, and if what you need is a small cash advance, it can be beneficial to choose to take an online installment loan over any other kind of loan.
Not only are online installment loans convenient to apply for, they are also convenient to repay. Unlike payday loans, installment loans online from direct lenders are meant to be repaid in parts and not wholesome the minute you receive your next salary. In order to get back on track for the New Year, this can be a great option to choose.
You can repay your loan over the course of a few months which doesn't seem heavy on your pocket at all; alongside, you shall be able to get your life back on track by implementing the above-mentioned points to help you do so.
As long as you have a stable income, getting approved for an online installment loan from a direct lender shouldn't be a problem.
It is understandable that the pandemic may have led you to apply for loans and repaying them may have been quite difficult which could be the result of your bad credit score, and direct lenders online completely understand that. That's why, we at InstallmentLoanz offer loans to people with all sorts of credit backgrounds which therefore allows almost everybody to get funded as long as they meet our very basic eligibility criteria that require very simple documents to be submitted, including:
Your Social Security Number
Your income statement/ Pay stub
Your bank account details
Your age proof which should state that you're 18 years of age at the least
Your verifiable contact details
All you have to do is apply online in a matter of a few minutes, attach these documents that we ask you for, and wait to get approved which shall take a very little amount of time. Once approved, you shall receive your funds within 24 hours at the max, after which you can conveniently go ahead with investing in a product or service that you need or desire, or catering to your emergency.
Apply now! Get an installment loan online in just 24 hours at very affordable rates of interest.
Zero risk, zero stress and 100% borrowing satisfaction guaranteed