Missouri Installment Loans Online
Do you suddenly have to visit the doctor due to an illness that wasn't predicted? Or do you have to urgently repair your vehicle in order to commute to work without much of a hassle? Either way, if you don't have enough savings and don't earn enough to cater to these unpredictable expenses, you may have to look for a third option. The third option is undoubtedly borrowing money, but from whom? Not all family and friends can afford to pay your bills. Traditional lenders take quite aa while to provide funds. So, whom do you turn to? A payday lender, right?
You may seek help from a payday loan lender but repaying them can be quite a task. What if we told you that there's a better option than that? Yes, installment loans in Springfield, St. Louis and other cities of Missouri is an option that you can seek. Not from a traditional lender who may take days to fund you, but from an online direct lender like InstallmentLoanz. You can now get funded almost instantly and repay your loan in instalments which makes life very easy.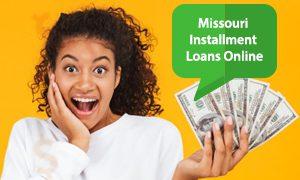 Get Bad Credit Installment Loans in Missouri from Online Direct Lenders
Yes, you read that right. Being a considerate online direct lender in Missouri, we offer loans for bad credit as well. As long as your current financial status is a stable one, you don't have to worry about possessing a bad or no credit history at all. We know and understand your current situation which is why we do not deny funding to you as long as your current financial situation is stable. Also, InstallmentLoanz understands that your past faulty repayments may have been due to various reasons, which may or may not have been your fault. It is quite possible that your previous lender made a mistake while updating your repayment status. You can now get a loan for bad credit in Missouri only at InstallmentLoanz.
Our Short Term Loans in Missouri are Unsecured
When you approach a traditional lender for finances to borrow, they often ask you to offer something as security to them. Especially if you have bad credit, you cannot get funded by these lenders without offering collateral. This can make life stressful and tough for you since you may not have anything to offer in the first place. A person in a difficult financial situation may not really have a car or house to put up as collateral which is why many such requests for loans get turned down. Being an understanding online trusted lender, we understand your situation. That's why, we offer loans that are unsecured which means that you do not have tp offer collateral in order to get funded by us.
Know How To Get A Loan With Bad Credit In Missouri in Three Easy Steps

Instant Decision
Loan Approval Decision Is Based On Your Ability To Repay And Not On Your Credit Score.

Direct Cash
The Approved Money Is Electronically Deposited In Your Account Within 24 Hours.
Here is what You Shall Need to Provide in Order to Get an Installment Loan Online in Missouri
We rely on your present financial status in order to fund you. That's why, we ask you to have a stable income which is what shall qualify you as a trusted borrower. The documents that we ask you for include:
Income statement/Pay stub
SSN
Checking account details
Verifiable contact details
Age proof (18+)
Apply now to get a loan in Missouri from an online trusted lender.
Zero risk, zero stress and 100% borrowing satisfaction guaranteed